Now you can view both audio and video for each speaker!
Alhamdulillah! The critics have spoken and Halal Tube has delivered the answer: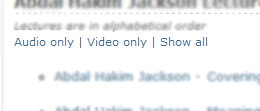 So now when you click on a speaker you will have the choices of viewing only the audio lectures, only the video lectures or all the lectures. The default view is all the lectures by the speaker. If there are any dead links please give us a shout at info at halal tube dot com. The image to the left shows what it looks like. Very simple and clear. The Halal Tube way!
Until next update, keep praying, reading Qur'an, listening to lectures on Halal Tube and commenting on them!
Ma'salaama
Halal Tube Team
Please make dua for the following who help contribute monthly to Halal Tube to cover our hosting costs:
Abu Ilyas
Honesty Parker
Usman Makhdoom
Azam Syed and Family
Muhammad Naveed Khan
Shabbir/Butt Family
Nilofar Syed
Wazir Hussein and Family
Philip Rice and Family
Ahmad/Arezoo & Family
Ashfaq / Arshia Mehdi
Sam's parents
Halimah & Family
4 Responses to " Now you can view both audio and video for each speaker! "